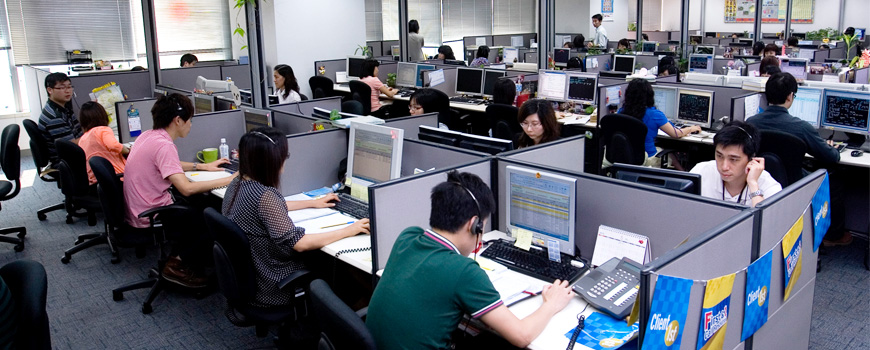 According to an article published by The New York Times, The Philippines is now the "New Capital of Call Centers", a position previously associated with India. This is due to the continuing growth of call centers in the Philippines, which was also labeled as the "revolution" that has "reshaped the call center business" in the world. According to the article, the Philippines call center demographic is mostly made up of young people who speak lightly accented English" and are very well oriented with the American culture.
As of the moment, the article claims that there are already 400,000 call center agents in the Philippines that take calls for American consumers from companies like AT&T, JP Morgan Chase and Expedia. These centers have either call centers  here in the Philippines or built their own buildings to accommodate their businesses.
Although there is truth regarding the fact that salaries of Filipino agents are slightly more expensive than Indian agents ($300 a month for Filipinos as to $250 a month for Indians), the article claims that business owners are willing to spend extra dollars on customer satisfaction. And these American customers often require proficient English speakers.  Unlike in India, Filipinos are more exposed to the English language as early as the first grade in elementary, knows American foods, watches American sports and television series such as NBA and Friends which makes them very appropriate for the job.
According to Aparup Sengupta, the chief executive of Aegis Global, The Philippines also has a unique combination of the Eastern hemisphere's attitude of hospitality, attitude and compassion with Americanization culture.  While another executive mentioned that Filipinos are more accustomed to American phrases and idioms than Indians are.
Call center analysts have also mentioned that Philippine call center industries have helped American businesses solve language concerns of American consumers with Indian agents.
Nonetheless, the article stated that outsourcing to the Philippines will remain strong with the call center business growing at 25 to 30 percent a year as compared to India's 10 to 15 percent. The growth can also be attributed to the Philippines BPO locations which are near malls, shops and restaurants. The Philippines also has better infrastructures than in India with lesser generator needs and accessibility to public transport.
Finally, the author of the article claims that the Philippines has come a long way from being a country known as exporting nurses. Business process outsourcing in the Philippines is now looking forward into higher-value services such as accounting and insurance claims processing.